Nopi is a new restaurant in Soho by Yotam Ottolenghi. Normally I wouldn't care about a new restaurant in Soho because an important part of being a hermit is not giving a shit about new restaurants in Soho, but I'd recently purchased a new shirt with an actual collar and buttons and shit so it seemed like a good opportunity to test-drive it.
The menu is designed for sharing, tapas-style, and the portions are small but filling; three savoury dishes per person is the recommendation which seemed about right. We picked a selection of meat, fish and vegetables.
Scallops, served with green apple and pickled daikon, whatever the fuck that is, had a scallopy intensity that made eating them feel like being punched in the face by a fisherman. The beef brisket croquettes with the street-sounding 'Asian slaw' were just as assertive. We'd ordered two helpings of scallops but the waitress talked us out of it as other diners had tried the same and felt that it was too much. Those other diners are dicks: don't ever let anyone talk you out of more scallops.
Pig cheeks with celeriac and barberry salad weren't as exciting but the bar was set pretty high by then. They were delicious but we couldn't help thinking of the scallops and the beef the whole time. Of the three meat and fish dishes, the pig cheeks were the Craig Logan of the set; fine at the time, but everyone's going to remember the Goss twins in the long run.
Green beans with roasted hazelnuts and orange were crispy and citrussy in all the right places. The only dish that didn't do anything for us was the braised winter greens with tahini yoghurt. A little bland and mushy and finished only because I knew we were paying £6 for them and because, well, they were green. You've got to finish your greens, right? Otherwise you're not allowed pudding.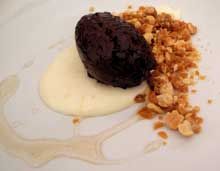 For dessert we had the chocolate, peanut brittle, mace and crème fraiche dollops on a plate, and the chocolate and hazelnut ice-cream with warm chocolate sauce. The ice-cream was fine but it was a mistake picking it; it isn't like you can't buy tubs of the stuff in newsagents these days. Should have gone for the 'Sultana financiers', which I imagined as some sort of wizened banker and now will never know. The aforementioned dollops of stuff on a plate were good though. I would definitely recommend the dollops of stuff.
Nopi is a nice place, lots of marble and brass and two table cloth dispensers on the wall. The bathrooms are lovely, magical halls of mirrors, though I was briefly confused by how to turn the taps on. Should you go yourself: you turn the taps on by using the thing that looks like a soap dispenser but isn't actually a soap dispenser. Note to everyone: please stop trying to be clever with your taps; all you're doing is raising the chances that someone will just not bother washing their hands.
http://www.nopi-restaurant.com/
21-22 Warwick Street
London W1B 5NE
Expect to pay at least £40 per person, but in a good, non-regretful way, not like you'd feel if you'd paid £40 per person at, say, an Angus Steakhouse.
Accompanying photos nicked from Crumpeats